According to Danfoss, there is already technology available to reuse excess energy, which could be utilized to fulfill the heat and hot water needs of the region.
According to a Danish engineering company, Europe's industries and transportation systems squander such a significant amount of heat that collecting the surplus and repurposing it could save consumers over €67 billion ($71.3 billion).
Danfoss A/S reported that various sources of surplus energy, such as factories, supermarkets, data centers, wastewater facilities, and subways, produce an excess of 2,860 terawatt-hours annually. This amount is almost equivalent to the total heat and hot water demand in residential and service-sector buildings across the European Union.
According to the CEO, the surplus of energy is currently the most significant unused energy source in the world.
Improving energy efficiency is considered crucial for the EU in the upcoming years to establish a more reliable and eco-friendly energy infrastructure. Utilizing excess heat could aid in the shift toward carbon neutrality, as it does not necessitate burning additional coal, gas, or oil.
In an interview, CEO Kim Fausing stated:
"What we need is to reuse energy, not to produce it. The technology needed to achieve this is already available today."
According to research conducted by heating and ventilation systems manufacturer Danfoss, combining the use of surplus heat with other measures to achieve carbon neutrality could save €67.4 billion per year by 2050. In urban settings, the excess heat could be transferred to a district network, where it would be utilized to heat a central water source that would then be used to provide heat to nearby buildings.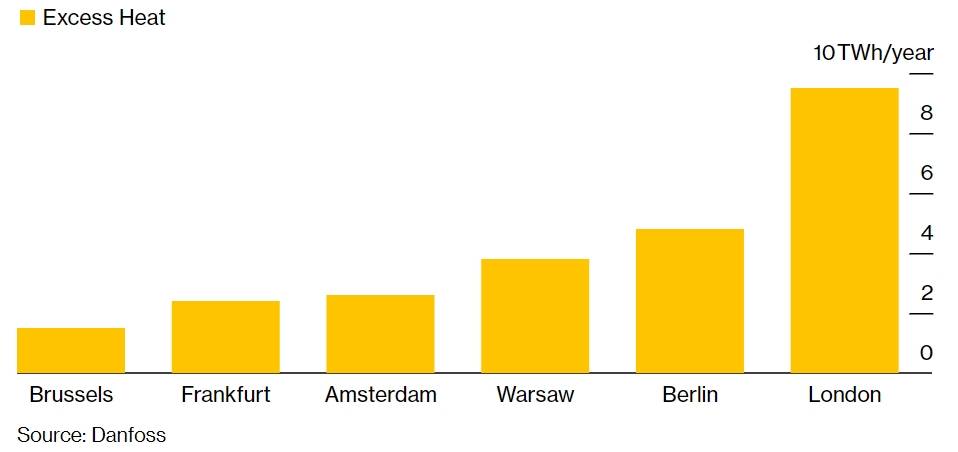 Europe's cities have the potential to reuse excess heat from factories, transportation systems, and data centers to provide warmth to buildings, according to a recent report.
Danfoss conducted a study on various cities and found that Greater London produces 9.5 terawatt-hours of heat waste each year, which could be used to warm 790,000 households if repurposed. Berlin produces 4.8 terawatt-hours of heat waste.
In Essen, Germany, 50 industrial sites produce enough waste energy to meet half of the city's residential energy needs. Similarly, in the Netherlands, the surplus heat available exceeds the country's total demand for energy.
Nearly 90% of Stockholm's buildings are connected to a heating and cooling grid, indicating the use of district heat networks in urban planning across Europe. In Germany, there is proposed legislation requiring data centers to reuse 30% of their surplus heat.
Reducing carbon emissions in heating systems in Europe and the UK will be a significant challenge since the older housing stock, particularly in the UK, is susceptible to draughts, and the region's systems still rely heavily on gas.
Catherine Bale, an associate professor at the University of Leeds who researches urban energy systems, emphasized the need to make long-term decisions about appropriate technology. She said:
"We need to make decisions now on what will still be an appropriate technology in 50 years. The transition from fossil-fuel systems to low-carbon heat systems is critical."